Technical information
License:GNU
Op. System:Windows
Category:Utilities
Language:English

Author:PracticeSharp
Downloads:1,573
Date:Mar 21st, 2013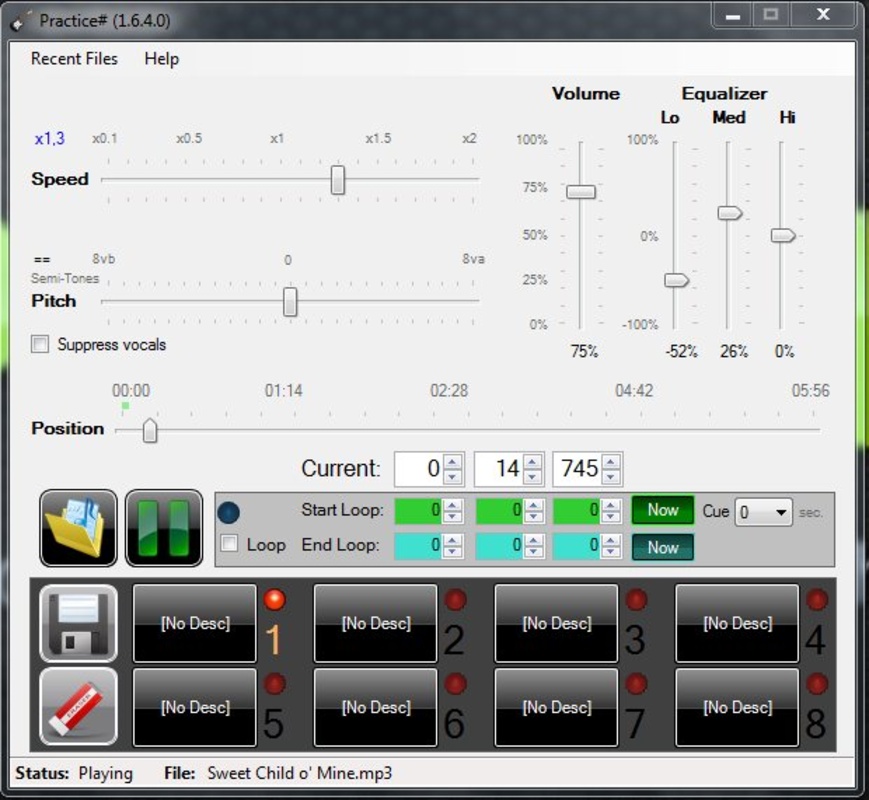 Practicing playing or singing music requires plenty of time, and what better way to practice than with a helper?
PracticeSharp is a useful tool for practicing with an instrument in time with the rhythm of a musical piece. You can use it to listen to how you sound relative to the original song and within a multi-instrument environment.
The program is, basically, an audio player that allows you to change the tempo and tone of the songs that you play so that you can better adapt them to your level.
This practical utility isn't very complicated, and has a minimalist, easy-to-use interface that shouldn't cause trouble for any users. The main screen includes speed, equalizer, and volume options along with the playback menu. And PracticeShape includes keyboard shortcuts to make controlling it even easier.
This tool is able to play MP3, WAV, WMA, AIFF, OGG, and FLAC files, slow down or speed up music without changing its tone, or change the tone without changing its speed. And this new version includes half-note tone changes as well as the ability to remove the voice track from a song.
The utility can also add Loops so that there is a few seconds of delay before a song begins, which is a great option to give you the time you need to get your hands in place for comfortable playing.